The Spy, Netflix's new six-part miniseries which is produced by Gideon Raff has debuted on Friday where Sacha Baron Cohen plays Eli Cohen. Eli is an Israeli intelligence agent who spent years in the sixties under the name "Kamel Amin Thaabet."
The dramatic showcase is best known for board sketch- comedy which could be huge for an actor. Sacha, who is a comedian has crossed the stylish divide by perfectly jumping into the skin of the serious character which is never easy far an actor used to do comedy drama.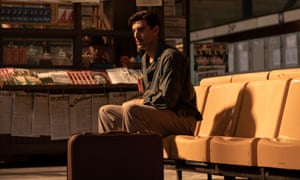 "I saw Eli Cohen, as he was written in the show, as an extreme version of myself, "Baron Cohen said. "The stakes were higher for him because the prince of failure is imprisonment an execution. Eli Cohen was, in that sense, the greatest method actor of the last century." he recently said, "Often the joke is that you're heading in one direction and at the last moment, you head the other way."
And finally, the cohen is starring in his first lead dramatic acting role this fall. Cohen really surpriced everyone with his unprecedented new version in "The Spy". The formidability in his acting stripped all the ridiculousness he used to have in full-body performance.
In the starting of "The Spy," Eli Chen is a happily married  Israeli Everyman. Approached by the Mossad, which is desperate to embed an agent in Syria, Eli turns out to be wunderkind at spycraft. The Spy's first two episodes contain the kind of training and Spyjinks. One expected from a low-key ohn Le Carre adaptation. And Eli also makes high-risk mistakes in Buenos Aires, where he begins to establish his cover as a rich and debonair import-export who longs to return to a Syrian homeland he has never seen.